Do not look any further! This superb Magic Factory iOzone+ is the only one you will ever need for maintaining hygiene for your ingredients, kitchen tables and spaces.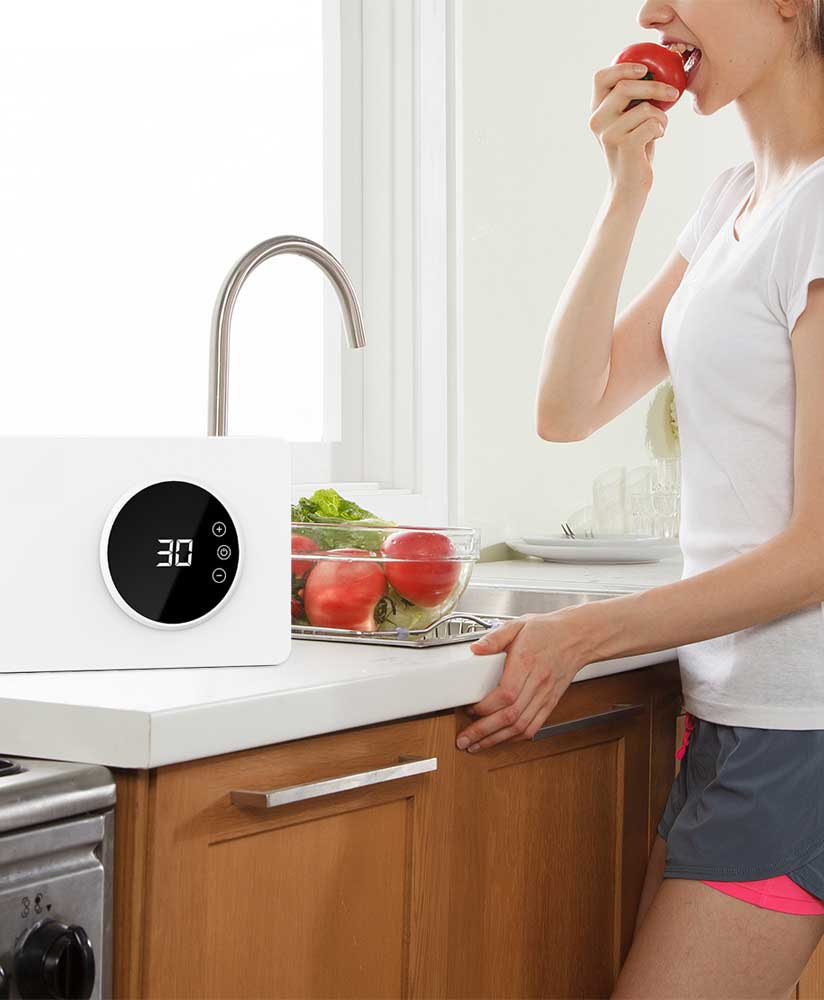 Powerful ozonator with 400mg/h completely decontaminate unwanted ingredients in water or air in only 5 - 10 minutes of applying.
removing pesticides, bacteria, viruses, chlorine, fluorine from the water and fruits and vegetables submerged in water
revival of food before storing in the refrigerator or use in the kitchen
disinfection of toys and accessories
sterilization of lab equipment
maintenance of skin care, athlete's foot and face
maintenance mini aquarium, basement, toilet, closet
MAINTAINING
Avoid hitting with hard objects due to destruction.
Clean the machine with soft cloth. Don't pour water into it.
TIMER
Unit has an integrated timer to control the time of ozone generation: from 5 till 60 minutes with 5 minutes intervals.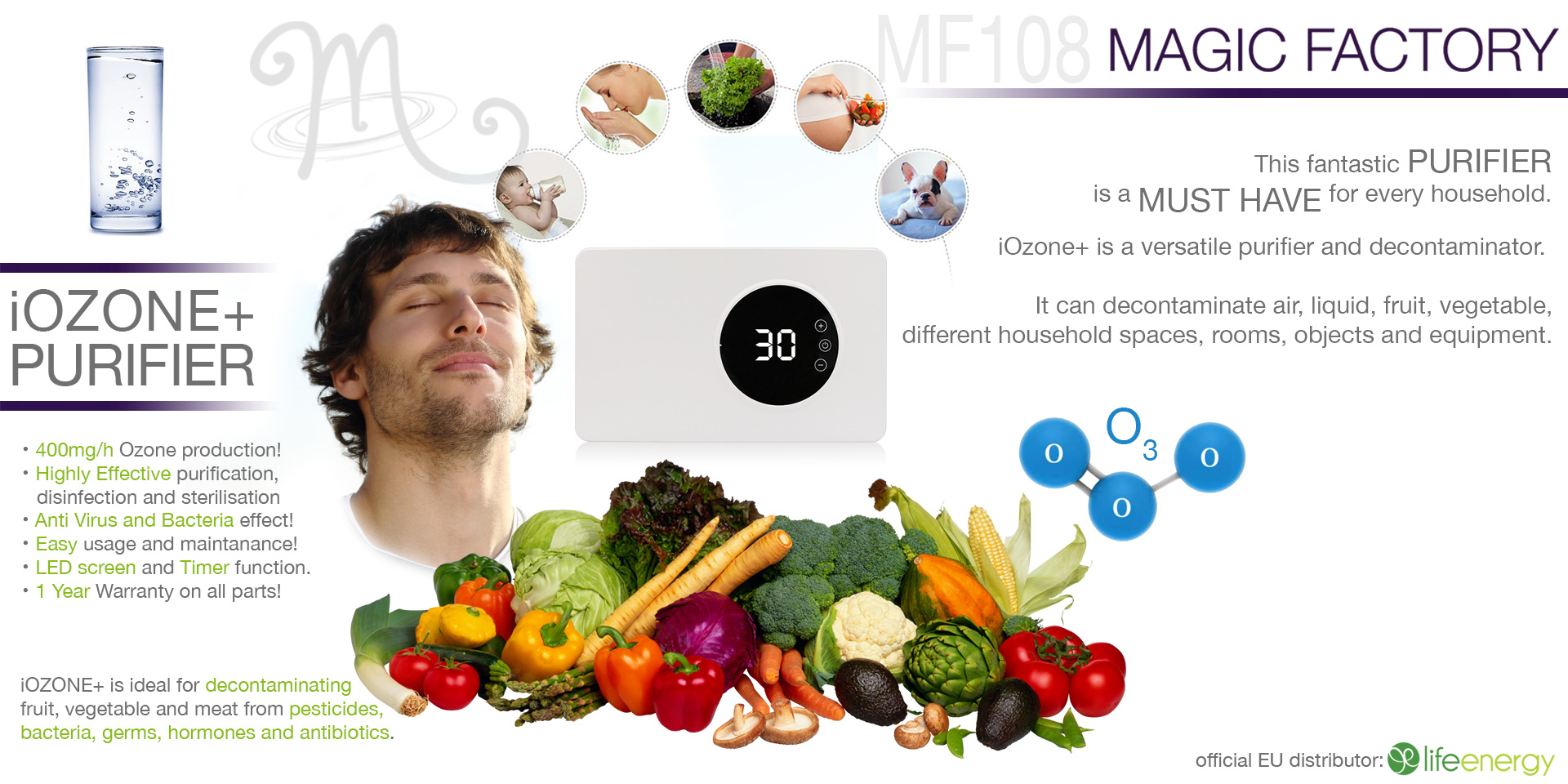 Additional Information
Country of manufacture
China
Shipping from
Croatia
Color
White
Warranty
2 years
Technical data

Name: iOzone+
Model: MF108
Input Voltage: AC 220V
Power: 9W
Ozone density: >400mg/H
Dimensions: 260 x 160 x 45 mm
Weight: 0,65 kg
Box contains: iOzone+, food grade ozone tube * 2, air stone * 2, cable
Usage: Water and air purifier
Product Questions
No Questions
Reviews
Click to check all testimonials
Customer Reviews
Odlično

Review by

Akvarista

on 22/05/2019

Bavim se uzgojem ribica i sustav akvarija od 400l sam do sada morao svaka dva tri dana čistiti promjenom vode naravno jer se zamutila od izmeta ribica. Nisam bio siguran hoće li ozonator pomoći pogotovo na ovoliku količinu vode no moram priznati da me iznenadio. Svaki dan pustim ga pola sata da ozonira vodu na početku pumpe i otkad ga koristim vodu nisam morao niti jedanput mijenjati jer ne samo da je čista nego vidim i svježa i puno bolja za ribice. Jedino pitam se da li će to ikako utjecati na zdravlje ribica na duže staze ali logika mi govori da bi trebalo to sve biti u redu.

Super

Review by

Snježana

on 21/09/2018

Iz dana u dan me oduševe rezultati rada sa ozonatorom. Od dezinfekcije voća i povrća, do pranja podova, zatim čišćenja make up kistova i spužvica, Čak sam ozonirala i domaće maslinovo ulje koje je lijek za sve dermatološke probleme. i da, koristimo ga svakodnevno

fenomenalan

Review by

Mario

on 30/01/2015

Oduševljeni smo ozonatorom. Svakodnevno ga koristimo za ozoniranje vode, voća, povrća te mesa. Okus i kvaliteta namirnica je mnogo bolja i zasigurno ćemo ga svakodnevno koristiti.Želimo naglasiti prednosti svakodnevnog konzumiranja ozonirane vode na sveukupno bolje zdravlje naše obitelji.

Izvrsno

Review by

Sanjin

on 31/03/2014

Redovno koristim Ozonator za ozoniranje voća i povrća prije blendanja kao i za ozoniranje kuhinje nakon friganja riba, jednostavno fenomenalno.

Otkriće

Review by

Martina Čerkez

on 13/12/2013

Ozonator nam je otkriče..oduševljenje u cijeloj obitelji, danima već ozoniramo sve i jako smo zadovoljni sa rezultatima. Preporučam

5+

Review by

jelena

on 08/01/2013

ozonator sam nabavila sa prilično skepse, zanimala me jedino info o mogućnosti lječenja gljivica namakanjem u ozoniranoj vodi. Stvar je istinita. Nakon 15 dana svakodnevnog večernjeg namakanja u ozoniranoj vodi, stanje noktiju na nogama je najmanje 50% bolje. Poslije namakanja ulje čajevca i .... divota. Do sada sam isprobala sve postojeće kreme u borbi protiv gljivica, potrošila ne malu količinu novca sa skromnim rezultatima. Vrlo. Stvarno sam zadovoljna..... preporuka !!

odličan

Review by

Morana

on 05/01/2013

Ozonirala sam karfiol i stavila ga u frižider. Moram priznati da sam i zaboravila na njega. Nakon tjedan dana, bio je isti kao i prvi dan, bez crnih mrlja, hrskav i ukusan. :) Za sada sam ozonirala samo voće i povrće.. sljedeći korak je ozoniranje stana, pranje lica ozoniranom vodom.. evo, mogla bih večeras prije spavanja! Preporučujem od srca :)

odlično!

Review by

vesna

on 23/12/2012

Prije sam koristila dva puta skuplji ozonator, kojega je bilo potrebno svaki put čistit(veća posuda u koju se stave namirnice) i nije bio baš napravljen od kvalitetnog materijala. Ovaj se mi jako sviđa jer je mali, ne trebaš ga čistit svaki put. I da, bez njega se ne može, jer je skoro sve tretirano pesticidima. Ne dam ga :-)

odličan

Review by

klarisa

on 11/11/2012

Super mi je Ozonator kod čišćenja voća i povrća, kada znaš da si skinuo sve špricano na njima.. Ako već ne mozeš nabaviti organsko... U svakodnevoj ozoniranoj vodi koja je stvarno fina i čista! Olakšanje u pročišavanju zraka u prostorijama.. te niz drugih praktičnih primjena u kućanstvu, čićšenja raznih materijala i pribora.. baš sam zadovoljna. Nisam očekivala toliku mogućnost primjene i jednostavnost upotrebe! Svaki dan expermentiram sa novim mogućnostima... pa sam si čak ozonirala i maslinovo ulje i vino.. ma ke dobro!