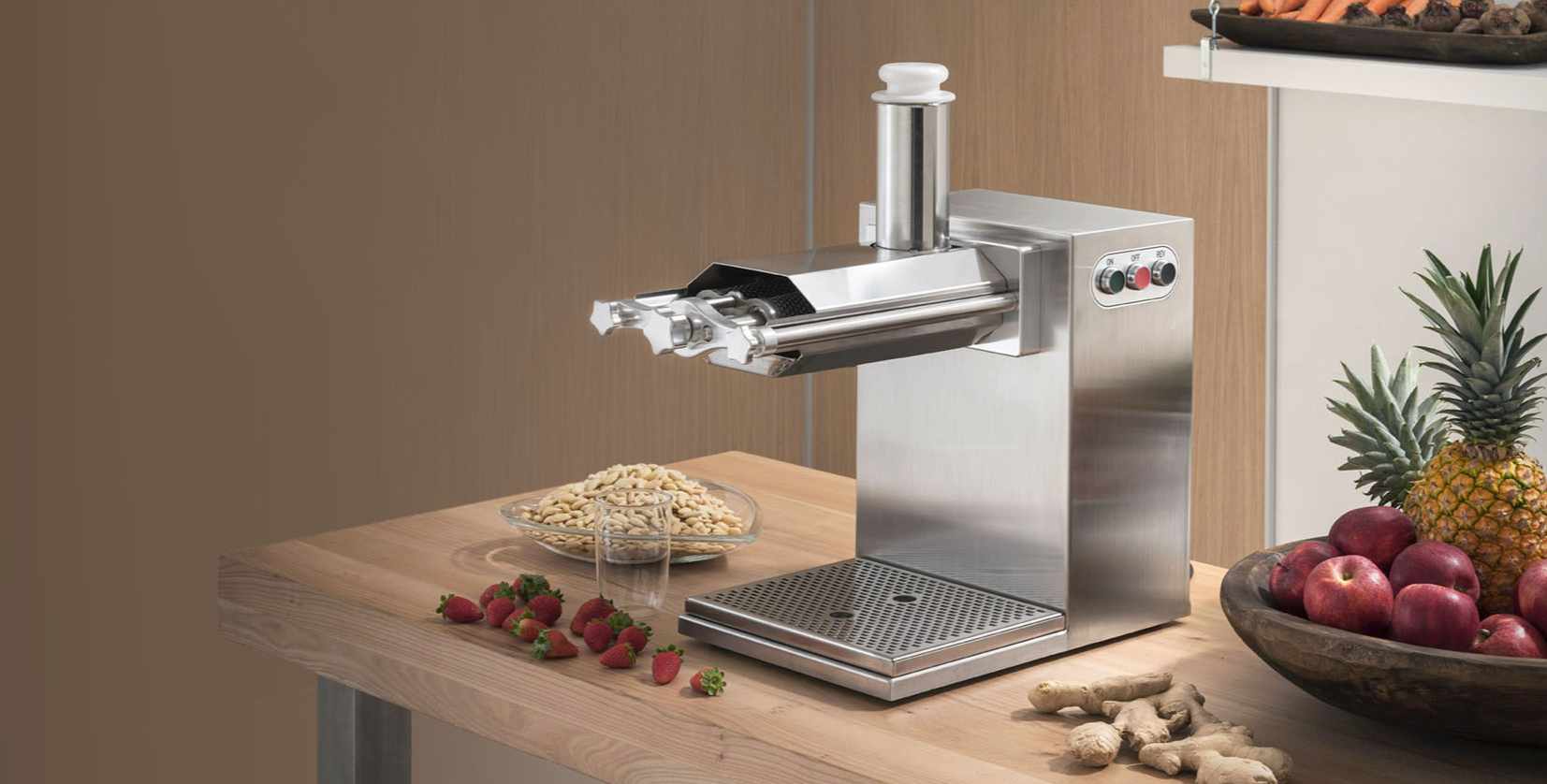 The best juicer on the world market
We cannot start not to mention that this is the best juicer EVER - it combines the 750W AC engine for non stop working and crushing anything to the tiny details, 2 strong augers to break every type of ingredients to the tiniest details and big hole so can be used on any type of bar.
No other machine in this category has such strong, advanced and powerful parts that can press berries or ginger with power and safety at a maximum speed of 45 rpm.
The stainless steel design increases the longevity of the juicer and at the same time gives it a beautiful, high-quality and luxurious look. With the powerful motor and low rotation when juicing, it can crush even the hardest cells and extract the maximum amount of nutrients from vegetables and fruits. Using intelligent technology, the Friulco ARGOS juicer automatically determines the pressure required to extract the maximum amount of juice from the vegetable or fruit. With over 37 years of know-how, the manufacturer can deliver fabulous results when juicing through product development and high quality control.
Functional and quiet
ARGOS design allows for quick disassembly of the four main parts for cleaning and maintenance. In working mode it guarantees very good acoustic comfort.
Versatile and profitable
The nutritional values of fruits and vegetables remain unchanged: the vitamins, minerals and antioxidants are always present so it can be used for filling a large quantities of cold pressed juices in bottles for storage and selling. In addition to vegetables, fruit and wheatgrass, the ARGOS also prepare tofu and milk from seeds, almonds and (soy) beans. The leftover press can be further processed into smoothies, sauces, fillings, soups, creams..

Durable and luxury

The heavy stainless steel construction and performance made this professional device unique on the global market .
Made in Italy 100%
All-round juicer
High quality stainless steel - heavy duty, 45 kg weight
For the professional - unique in its class
Gentle cold juicing for more vital substances
Perfect for fruits, vegetables, green juices, wheatgrass
Very high juice yield
Very quite with low speed 45 RPM
High performance & low power consumption
Production quality through individual construction
Easy to use
Quick cleaning, can be quickly dismantled in 4 stages
Filling shaft Ø73 mm diameter
Dishwasher safe and made entirely of stainless steel
Double press rollers/augers
Powerful engine 750W
5-fold security system
2 times use (juice & press residue)
Key features:
750W AC motor
45 RPM speed
Stainless steel construction
5-fold security system
Advantages:
Powerful and efficient
Gentle cold pressing
High juice yield
Durable and easy to clean
Versatile and profitable
Disadvantages:
Expensive
Large and heavy
Overall, the Friulco ARGOS juicer is an excellent choice for businesses that need a high-quality, durable, and efficient juicer. It is also a good choice for home users who are looking for the best possible juice quality.
Specific advantages over other juicers:
The 750W AC motor is more powerful than most other juicers on the market, allowing it to crush even the hardest ingredients.
The 45 RPM speed is slower than most other juicers, which results in a more gentle cold pressing process that preserves more nutrients.
The stainless steel construction is durable and easy to clean.
The 5-fold security system protects users from injury.
The ARGOS juicer is versatile and can be used to juice a wide variety of fruits, vegetables, and herbs. It can also be used to make tofu and milk from seeds, almonds, and (soy) beans.
Conclusion:
The Friulco ARGOS juicer is a top-of-the-line juicer that offers excellent results. Its power, efficiency, and build quality make it an ideal choice for businesses and home users alike.
Additional Information
Country of manufacture
Italy
Shipping from
Croatia
Color
Silver
Warranty
10 years retail - 2 years hospitality
Technical data

Net weight: 45 kg
Gross weight: 60 kg
Power: 750 W
Feeding hole: Ø 73 mm
Current: 230 V / 50 Hz (or any other on request)
Speed: 45 RPM
Overall dimensions: 70 x 40 x 75 h (0,21 m3) cm
Product Questions
No Questions
Reviews
Click to check all testimonials