When choose your new Instant Pot model, it is recommended to study all the possibilities provided by these extremely interesting devices with which you can so easily and efficiently replace all other kitchen appliances for cooking, baking, dehydrating or even sterilizing!
What is the Instant Pot and why?
Instant Pot appliances are the world's best-selling fast food pressure cookers. Unlike old classic express pots, Instant Pot devices have perfect microprocessor system for monitoring of pressure, temperature and operating time while cooking. Along with the 10+ different safety protections it just allows you to :
Put ingredients in the pot
Close the pot with the safety lid (easy, simple and automatic)
Choose program with one click (in most cases)
Go doing something else, even go to the work
Just like that! Once you get acquainted with the device and the way how it works, you will understand that you do not understand how you cooked and baked before it!. With the Instant Pot device you can cook and bake everything as easily and simply as before.


With much less time and effort!
Instant Pot has a huge recipe database and will allow you to start preparing dishes in a very simple way that you did not know to do it before or did not even dare. It will turn you to a brand new home CHEF in your family and everyone, especially yourself, will be thrilled.
What is the DUO in the name?
DUO means that the appliance allows pressure cooking in two different ways. Low or high pressure while cooking allows you to make various dishes (using already built-in programs with which you do not even need to think about anything).
What PLUS means?
Two programs have been added to the best-selling model - sterilization and sous vide. The EasySteam steam release method was also introduced with the PLUS model but later added to the standard DUO model as well.
What about EVO?
This is the latest model and it brings a real revolution. It turns your pot suitable for cooking on any hob or even for an oven up to 232 C. It also has additional 48 predefined options for all advanced users. Added a QuickCool option for quick steam cooling is super efficient method for steam output reduction.
Ok, what is the CRISP?
By replacing the pressure cooker lid with an additional air fryer lid in this models you just get two devices in one. You can also 'fry' the same pot that have already been cooked with hot air and get a crispy chicken crust or a baked stuffing top layer.
See the table for more details and clearer and faster comparison of all the models.
Model
---
Designed for
---
Power
6l Weight
8l Weight
---
Functions











---
One-Touch Programs
Pre-set functions
Easy Steam Release
Quite Steam Release
Safety Features
Included accessories



---
Air Fryer lid
---
Duo
---
Original
---
1000W
5.4 kg
6.8 kg
---
7 in one
Pressure Cook
Slow Cook
Rice/Grain
Sauté
Steam
Yogurt
Warm




---
13
-
-
-
10
steam rack



---
no
---
Duo Plus
---
Beginners
---
1200W
5.6 kg
7 kg
---
9 in one
Pressure Cook
Slow Cook
Rice/Grain
Sauté
Steam
Yogurt
Warm
Sous Vide
Sterilizer


---
15
-
yes
-
10
steam rack with handles and spare sealing ring

---
no
---
Duo Evo Plus
---
Beginners/Advanced
---
1200W
5.9 kg
7.2 kg
---
10 in one
Pressure Cook
Slow Cook
Rice/Grain
Sauté
Steam
Yogurt
Warm
Sous Vide
Sterilizer
Bake

---
10
48
yes
yes
11
steam rack with handles and spare sealing ring

---
no
---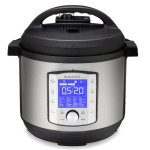 Duo Crisp
---
Beginners
---
1500W
-
10.3 kg
---
11 in one
Pressure Cook
Slow Cook
Sauté
Steam
Warm
Sous Vide
Bake
Air Fry
Roast
Broil
Dehydrate
---
11
-
yes
-
10
multi-level air fryer basket, protective pad, Broil/dehydrate tray, steam rack & handles
---
yes
---