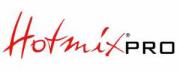 HotmixPRO is the most advanced range of professional solutions for every professional's kitchen
HotmixPRO now offers a wide and complete offer for every chefs' needs!
From mixing to cooking, from preserving to smoking, from ice cream making to portioning…
With their many, exclusive features, HotmixPRO machines are one of today's most technologically advanced solutions to make the Chefs' lives easier. Think of a kitchen tool that remembers your recipes and is able to reproduce them. Without your intervention.
The HotmixPRO range offers total accuracy and predictability when choosing the production settings, to grant maximum freedom to the user.
For example, our thermal mixers are able to control the cooking temperature with the same precision that you could exert, with 1°C of accuracy; mix up to 16'000 rpm; cook up to +190°C (+374°F), and even cool down to -24°C (-11°F). All in one.
HotmixPRO Giaz, instead, our latest product, can turn a frozen ice cream base into fresh, finely portioned ice cream, in a matter of seconds and with no waste whatsoever; furthermore, to grant you the highest possible freedom, you'll be able to (optionally) set all your parameters manually: blades rotation speed, blades vertical speed in the frozen product, and much more.
Do you think, as we do, that your kitchen could find a valuable help in such a tool?
Discover the endless possibilities of HotmixPRO, and see which model is fit for your needs!