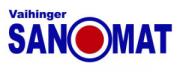 A world leader in quality and perfection of the tools for applying freshly prepared cream in bakery
Vaihinger produces cream whipping machines for over 60 years now in Germany and our SANOMAT machines are used worldwide in different sectors, for example bakery's, hotels, restaurants or ice cream parlours.
Fresh cream, freshly whipped – this incredible feeling you get when you hear these words is one of pure joy. There are other names for it: luxury, comfort, beauty, sophistication, refinement, delicacy, pleasure. To experience this pleasure, you only need one word: SANOMAT. Because we supply the ultimate in cream whipping technology.
Fresh cream, freshly prepared – that is our aim and purpose. Established 1884 and still family-owned, our company unites the reliability that comes with our experience and tradition with modern technology, innovation and unsurpassed expertise. Snowy-white cream, beautifully whipped by the elegant steel-grey machine: a sense of joy that only perfect cream can instil. That is how we strive to build our cream whipping machines.
Cream cannot be improved: it is the best invention since the discovery of fire in the stone age. To continually improve its production, perfect the result and make life easier for you, that is our aim, on which we work every day. Immerse yourself into our world of cream. Browse through our cream whipping machines. And when you're ready, get in touch with us. We guarantee the best cream.
SANOMAT – We love cream!
Why machine for the whipped cream?
The advantages of using a whipping cream machine are multifaceted. In addition to time and product savings, the customer also receives a perfectly stable and whipped cream at any time - whether as a cap on the dessert or for the production of cakes. The range of applications is wide and therefore, the handling of the machine is very simple.
The operator for example has the chance to use a garnishing pistol for the production line. All machines with a garnishing pistol connection can be equipped with a garnishing pistol.
This is for example our two production machines without own cooling: The Industrie-Bako-GP 400V and the little brother Mini-Bako-S-GP (GP=garnishing pistol connection). But it can also be used at our Euro-Cream model with cooling.
Our Cremaldi line is equipped with a whipping barrel and is often chosen from price-conscious customers.
Where our SANOMAT model has a special patented whipping system including 13 whipping discs and 12 intermediate discs to guarantee a stability whipped cream and the most yield.
Each machine is cleaned and disinfected by the flushing-through method, therefore it is not necessary to disassemble the machine during the daily cleaning and disinfecting.
The precisely adjustable air regulator and the customisable whipping system guarantee top whipped cream volume and stability.
This are just some benefits of our innovative whipping cream machines.
Depending on the customers' requirements, we can find the machine which fits the best to them.