HEALTHY COOKING WITH CONSISTENT RESULTS:
The classic Instant Pot Duo adjusts pressure, temperature, time, and heat to cook food up to 70% faster than other methods and deliver consistent, delicious results every time.
CONVENIENT AND CUSTOMIZABLE:
The Instant Pot Duo can remember the way you like to cook, and which smart programs you use most often. 'Set it and forget it' freeing you to do other things while your dinner cooks safely and quickly.
13 ONE-TOUCH SMART PROGRAMS:
Revolutionize the way you cook with one touch programs: Soup/Broth, Meat/Stew, Bean/Chili, Slow Cook, Sauté, Rice, Porridge, Steam, Yogurt, Multigrain and Poultry. Keep Warm, and Pressure Cook.
SPACIOUS 5.7L CAPACITY:
Perfect for cooking up to 5 dishes at once, replacing multiple kitchen appliances!
EVEN EASIER TO USE:
New easy-seal lid automatically seals your Instant Pot for pressure cooking, and releases steam with a simple, safe push of the quick release button, with minimal mess and easy clean up.
PLENTY OF ELECTRIC PRESSURE COOKER RECIPES:
Join thousands of Instant Pot users who share tips, support, recipes and the joy of cooking in the Instant Pot UK Facebook community.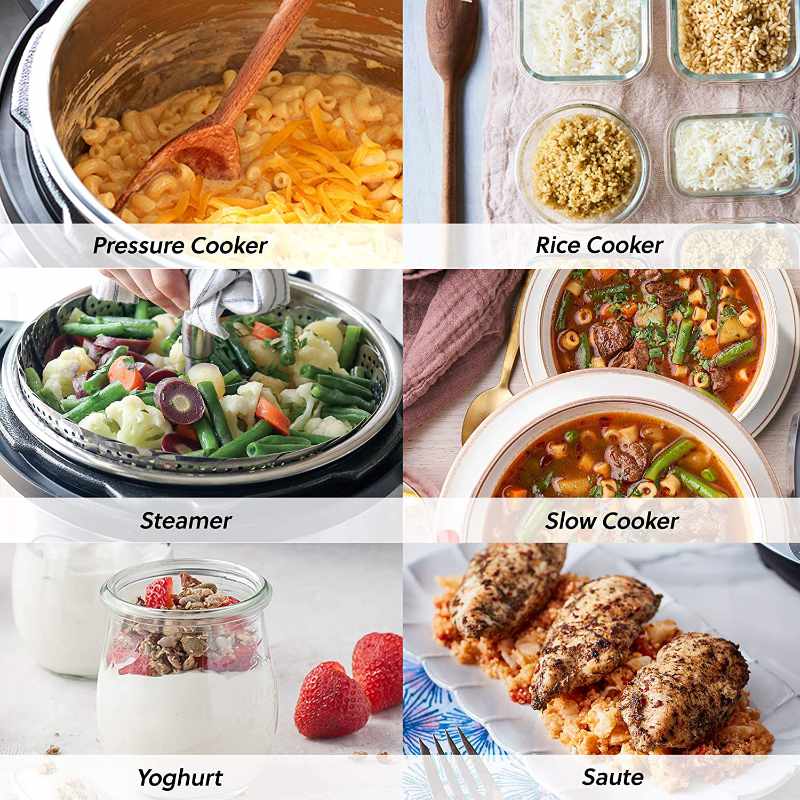 A #1 bestseller on Amazon, the Duo offers all of the standard Instant Pot features with an extra setting for making homemade yogurt. It's the Kitchen Appliances and Technology Lab's top pick — it comes in two size pots (06 and 08). The inner pot is made of stainless steel and it boasts a 3-ply bottom for even heat distribution.

It also features the essential added features: a "delay start" tool and a "keep warm" function. It also lets you pressure cook on low (in addition to high), so you'll have more control over the cooking temperature of soups and lentils, which may ultimately prevent them from overcooking into mushy oblivion.

Unlike previous Lux model, this model has a large handle on top that makes opening and closing it quick and easy, and the extra slots on both side handles can be used to prop up the lid when it's not in use. Plus the cord's detachable, which you'll love if you're planning on storing your new toy in a tight cabinet.
Additional Information
Country of manufacture
United States
Shipping from
Croatia
Color
Silver
Warranty
2 years
Technical data

Material: Brushed Stainless steel
Capacity: 5.7 or 7.6 litres
Dimensions: 31 x 34 x 31.7 cm
Weight: 5 kg
Operation mode: Manual
Dishwasher safe
10+ PROVEN SAFETY FEATURES including overheat protection and safe-locking lid