The Pro Crisp comes with the new stove-top friendly liner with easy lift handles that was introduced with the Duo Evo Plus. The handles on the new liner design really do make it easier to remove a hot pot from the base. Inner pot is compatible for use with all stovetops, and is oven-safe up to 232 C. Easy-grip silicone handles for effortless stirring, lifting, and carrying, and a flat bottom for even searing and sautéing.
Another nice feature of the Pro Crisp is a gentle steam release that was also introduced in the Duo Evo Plus. Instead of worrying about coating your ceiling in steam, the updated lid in this model controls the steam release when you're done cooking.
Maximum Air Fryer temperature for the Pro Crisp model is 232 C, higher than Duo Crisp 204 C. Depending on what you're cooking, the extra hot temperature will be helpful, especially if you're using the broiler function. And note with the broiler function on both models, you can't adjust the temperature.
The Pro Crisp was designed with an updated black stainless steel appearance. It's a nice change from the other models.
Crisp models aren't considered yogurt makers or rice cookers because they don't have the associated pre-programmed buttons. You can still make yogurt and rice in the Instant Pots. Look for a recipe that uses the pressure cook or other available buttons for these dishes instead.
If you'd like to make a cake in either of these methods you can either use the Pressure Cook button for a "wet" cooking option or the Bake button with an air fryer lid for a dry cooking option.
For the famous hard-boiled eggs you hear about with Instant Pots, these models have the Steam button, which is a frequently recommended approach.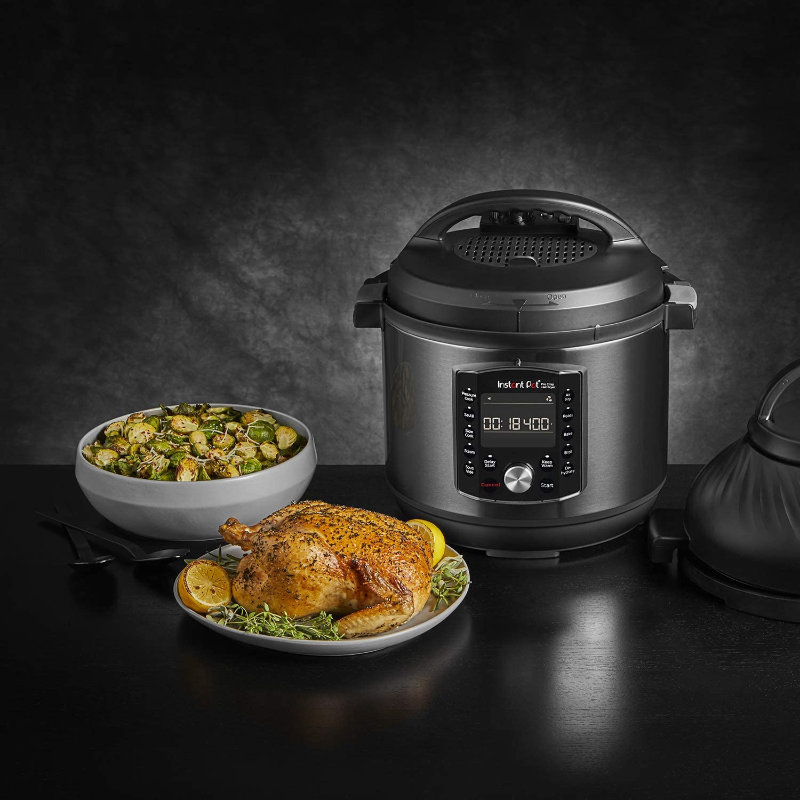 Additional Information
Country of manufacture
United States
Shipping from
Croatia
Color
Black
Warranty
2 years
Technical data

Material: Brushed Stainless steel Black
Capacity: 7.6 litres
Dimensions with pressure lid: 39 x 32 x 37.5 cm
Weight: 11.9 kg
Operation mode: Manual
Dishwasher safe NO
11+ PROVEN SAFETY FEATURES including overheat protection and safe-locking lid