Exciting news with the Duo Evo Plus, the liners are now stovetop friendly and have grip handles. The handles make it much easier to lift the hot pot out of the base. And this liner version has a flat bottom making it stovetop friendly. That is why the pot is not dishwasher friendly.
In addition to different inner liner, the Duo Evo Plus lid has a few interesting features including a controlled pressure release knob.
In addition to releasing pressure quicker with the QuickCool technology, it also manages the pressure steam better. It's a really nice feature to reduce the amount of steam hitting your ceiling or possibly cabinets.
The original Duo Plus has a manual seal lid and the updated version has an auto-seal lid with a push button to release the pressure. The quick-release on these models is more forceful. If you've seen a quick-release demo on an electric pressure cooker and felt a bit scared, check out Duo Evo Plus.
With most of the Instant Pots, you can simply compare them side by side based on smart programs. If you're interested in a specific program that might make your decision for you. So while it may look like the Evo Plus has fewer cooking options, it actually has a lot more. The Duo Evo Plus has presets and customization options that add a whole new level of cooking.
The Duo Evo Plus has also a backlit display like Duo Plus, But its settings are changed based on turn dial which allows you to choose from the presets within a smart program and adjust the cooking settings. Don't forget to hit the start button after you make your selections unlike with the Duo Plus model which uses buttons to select cooking settings and start automatically cooking after a few seconds.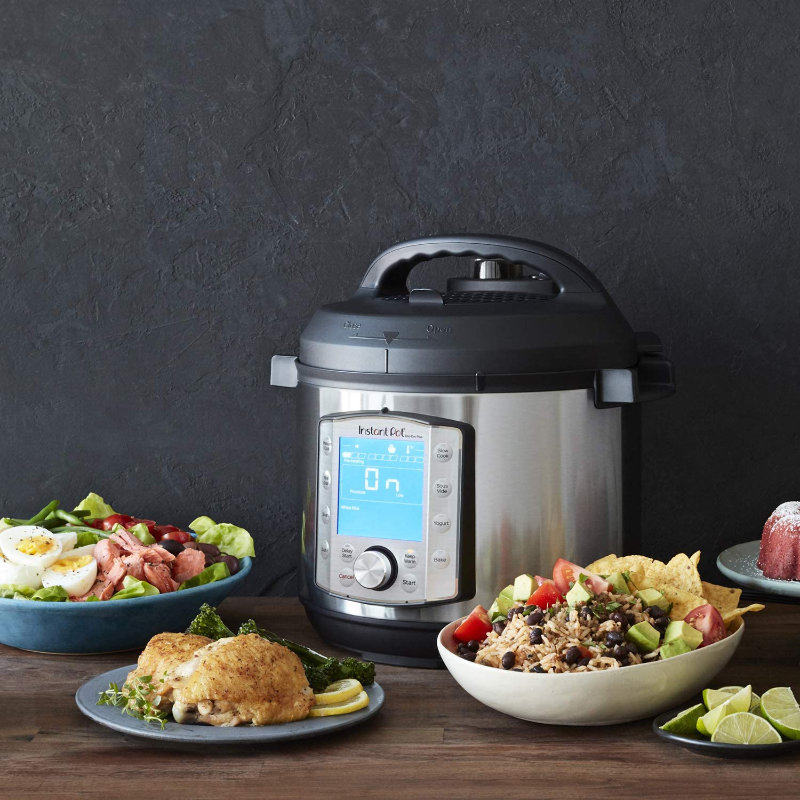 What is in the box?
The Duo Evo Plus comes with steam rack with handles and spare sealing ring. The silicone has a tendency to pick up smells from what you cook, especially garlic and onion, so mixing flavors between your sweet and savory dishes will be easy.
Additional Information
Country of manufacture
United States
Shipping from
Croatia
Color
Silver
Warranty
2 years
Technical data

Material: Brushed Stainless steel
Capacity: 5.7 or 7.6 litres
Dimensions: 33.1 x 32.2 x 32.5 cm
Weight: 8.5 kg
Operation mode: Manual
Dishwasher safe: NO
10+ PROVEN SAFETY FEATURES including overheat protection and safe-locking lid