2 in 1, Juice and cooking in one
Extract or blend, whenever you want. A new concept of kitchen appliance that combines Slow Juicer with a highspeed blender.
Full metal style that illuminates the kitchen:
Shining and metallic body Slim front and stable depth.
From desserts to full dishes!:
From homemade ice cream and smoothie bowls for dieting to crushing of ingredients for warm soup and other dishes!
Convenient cleaning:
Juicer filters are Easy Wash Type, and the blender has Self Cleaning Mode.
Safety:
As with any other Hurom Slow Juicers, the M100 Slow Juicer is made of all BPA-free materials.
Two technologies in a single body
Slow Squeezing and high-speed blending are controlled in a single body.
Dual Motor - the secret key of innovation
AC Dual Motor: A geared motor for Slow Squeezing and a high-speed universal motor are merged to offer a variety of features in a single body.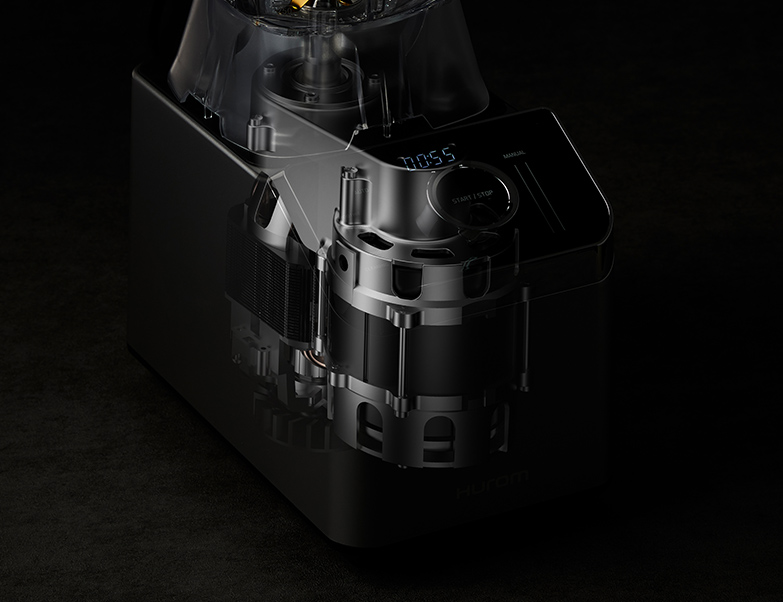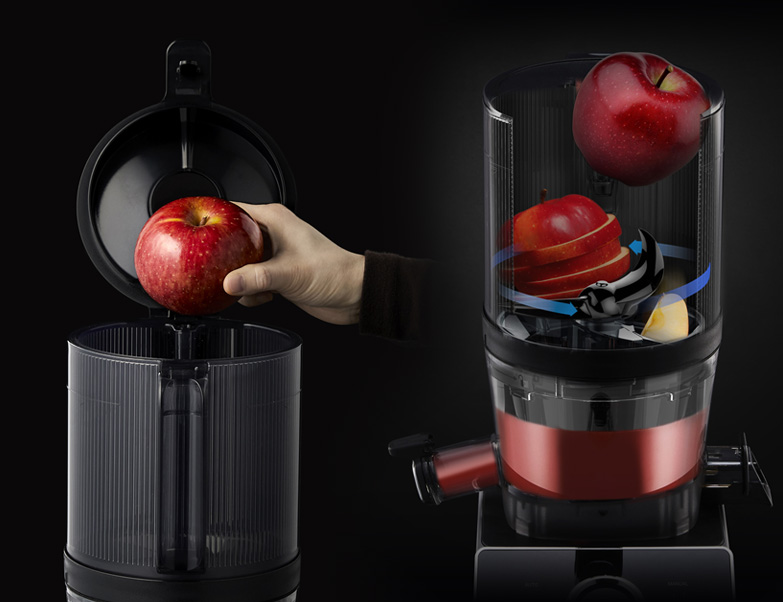 Insert them all at once without any preparation
Even a whole apple or large, leafy vegetables! No need to prep the ingredients. Just insert whole, ingredients into the 2L mega hopper at once.
Auto program for each cooking type and manual mode
It provides 5 Auto Programs with different crushing styles such as Smoothie, Crush and Soup. With Manual Program, you can control the crushing force any way or style you like.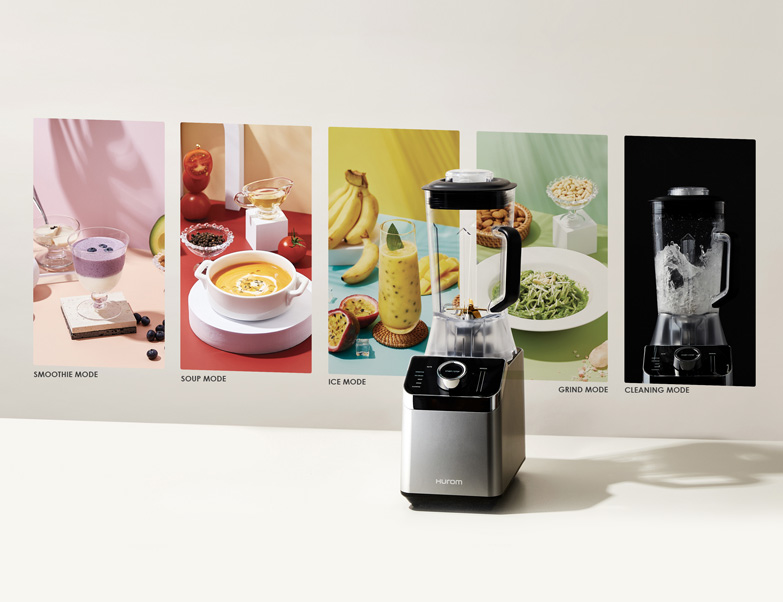 Powerful blending making ice into snowflakes
Even with frozen ice or lumpy ingredients, the six high-strength blades and a motor of max. 26,500rpm provide a powerful crushing force and excellent blending.
Convenient with smart UI
The symmetric exterior that helps control the dial from any direction in a stable manner and intuitively understand the status of operation. Convenient UI that shows different modes, operation time and even output steps all at once. Easily control the output steps and programs with the intuitive jog dial.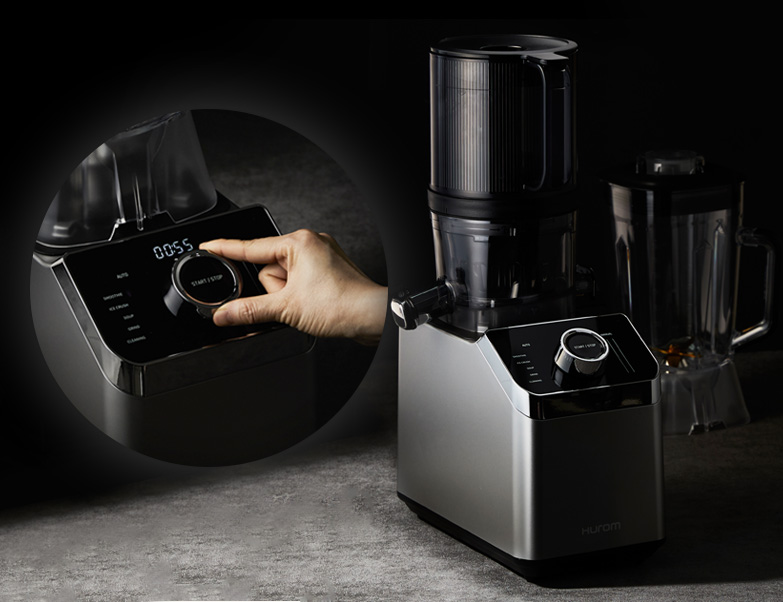 Smart function that detects containers automatically
The smart auto sensor, which automatically detects containers whether it be the Slow Juicer container or the crushing container, provides operations for each exclusive model that applies Smart UI.
Simple assembly and connection with the body
Simplified parts allow for more convenient assembly. Regardless of containers, it has a structure that allows for stable settlement even when you simply place them on the body.
Convenient automatic cleaning program
The Self Cleaning Mode also helps cleanse even the hard-to-reach areas in an easy and safe manner. * This function is not available in the Slow Juicer Mode.
Easy Wash Type
It applies the user-oriented Easy Wash Type, which enables convenient disassembly and easy cleaning in running water
Additional Information
Country of manufacture
South Korea
Shipping from
Croatia
Warranty
10 years motor
Coupon
NEW10PERCENT
Technical data

Weight
16.9 kg
Dimension
Juicer: 246*296*490 mm,
Blender: 186*296*528 mm
Standard Usage Time
Juicer: 30min
Blender: 7.5min (auto mode)
RPM
Juicer: 43/50rpm
Blender: 26500rpm
Power consumption
Juicer: 200W
Blender: 1000W
Capacity
Juice Chamber: 400ml
Mixer Jar: 2000ml
Voltage
250V 10A
Frequency
60 Hz
Accessories
Auger, Blender Jar, Chamber, Cleaning Brush, Hopper, Inner Strainer, Juice Container, Juice Strainer, Pulp Container, Pusher, Recipe Book, Smoothie Strainer
Product Questions
No Questions
Reviews
Click to check all testimonials