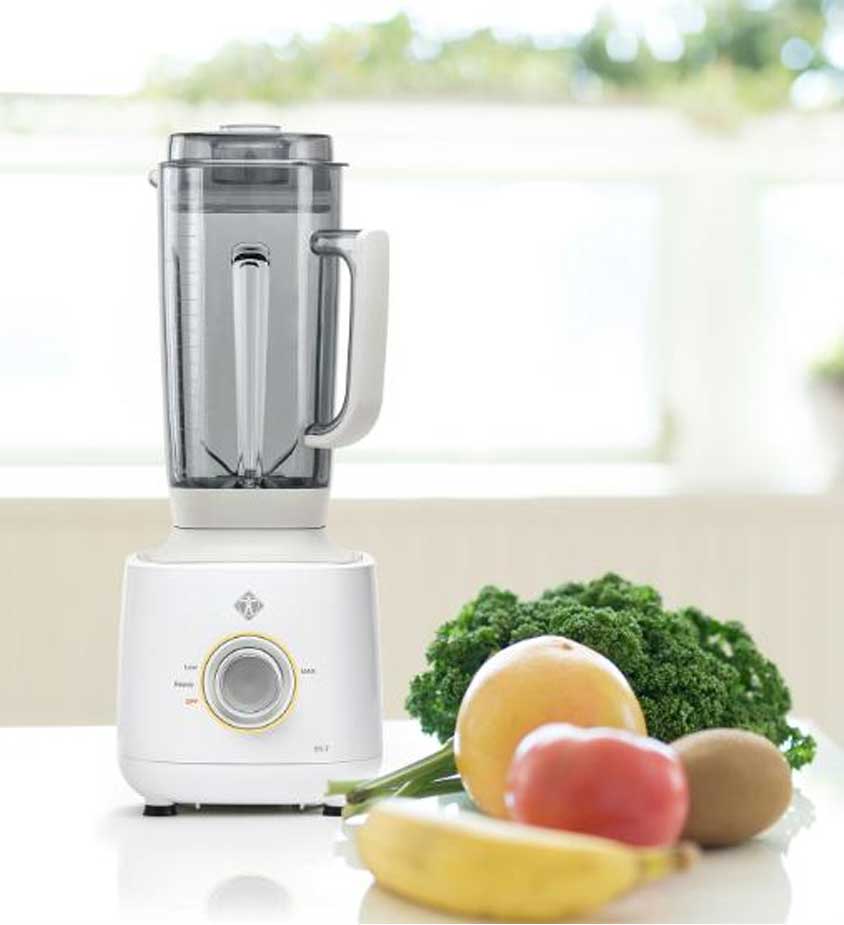 CI blender powerfull motor 4,6 HP allows you to use the device as a grinder, mixer and even a food processor, providing a very high level of its versatility.
The jug of Tritan BPA-free plastic has a square shape with rounded corners and tapers towards the bottom. As known, this material belongs to environmentally friendly heavy-duty polymers. The thickness of its walls reaches 5.5 mm. The side surfaces contain graduations of volume in ml and cups, which vary from 300 to 2000 ml in 100 ml increments and from 1 to 8 cups in 1 cup increments, respectively.
The knife block contains four long knives for chopping and two short knives for improved mixing. Long knives are bent up and down in pairs to increase the efficiency of their work by increasing the chopping volume.
Moreover, the model has an additional jug of stainless steel for grinding solid ingredients. This jug uses a similar knife block and has its own cap with a stopper for adding ingredients. Its graduation varies from 10 to 40 ml in 10 ml increments.
Blades from both jars are easily removed for cleaning in washing machines.
Additional Information
Country of manufacture
South Korea
Shipping from
Croatia
Color
White
Warranty
10 years motor, 2 years parts
Business guarantee
2 years
Technical data

Features

6 step metal speed control
LED displayed buttons
PULSE mode
very quiet and powerfull operation

Dimensions: 182 x 182 x 443mm
Weight: 4,7 kg

Motor

Active cooling BS7 QUX* longetivity engine
Max Motor Power 2940watt 4.6HP
Average power consumption 1700watt
Speed Control Dial type with pulse button
Maximum Speed up to 33,000RPM

Blades

Patented 3D Stainless Steel blades

Jars

100% BPA-free Tritan jar 2 L, 5.5 mm thick
0.9 L Stainless Steel Jar
hard cap and stir BPA free

Safety

Sensor for properly placed jar
Overheating and overloading protection
Product Questions
No Questions
Reviews
Click to check all testimonials
Customer Reviews
Čvrst i jak blender

Review by

Jelena

on 25/04/2019

Imam ga tek jedan dan ali već NA prvu sam primjetila da je vrlo kvalitetan i učinkovit. U par sekundi samelje led, smoothiji su savršeno obrađeni do u najsitnije čestice. Oduševio me i PLASTIČNI vrč svojom čvrstoćom i izgledom. Na prvi pogled sav je lijep i elegantan. Za sada nisam primjetila nikakvu manu, NADAM se da će nas služiti dugi niz godina. Svakako bih ga preporučila.