The powerful stainless steel Angel juicer is a legend among juicers. Using a 3-step multi-stage twin gear extraction system, Angel juicers are without peer in juice yield and quality. The 7500 is identical to the 5500, except it includes an auto-reverse function in case of jamming.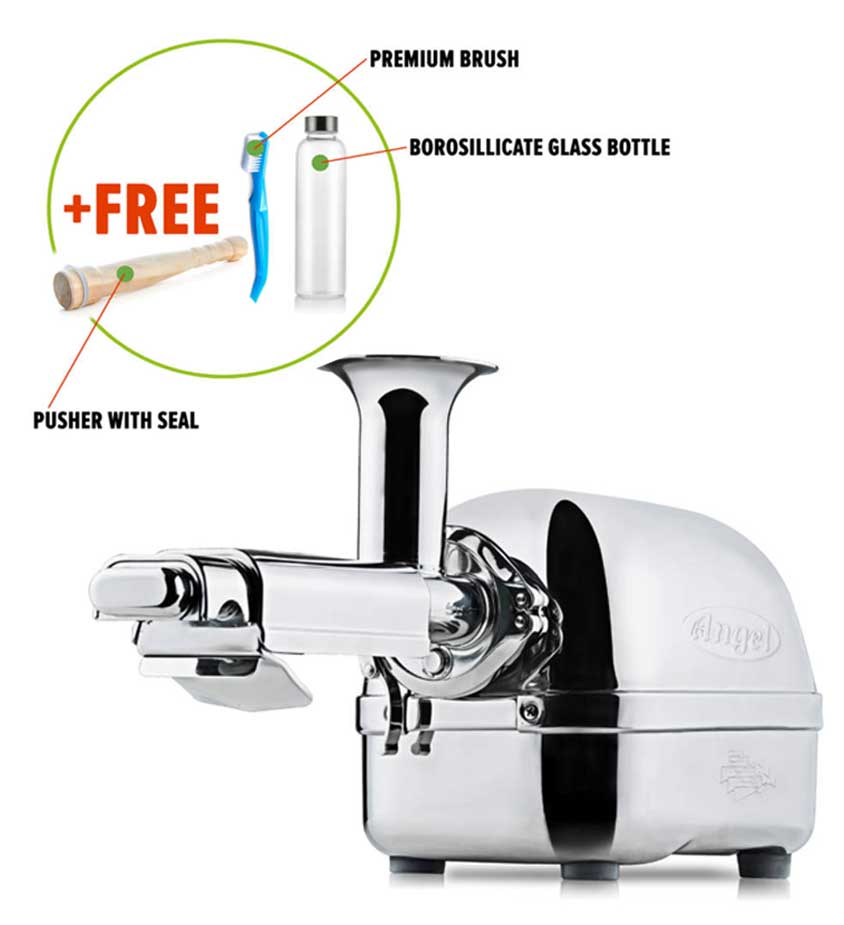 The best juicing performance
Angel juicers are designed and built with no compromises. No plastics are used in the housing or in any of the juice extraction components - it is all 100% stainless steel. The twin gear technology uses a unique 3-stage juicing sytem. Rotating against each other, the twin gears first cut produce into tiny pieces, then "chews" it into the smallest pieces possible before forcing it under high pressure through a screen. The precision engineering involved in manufacturing these gears offers the ultimate in breakdown of fruit and vegetable fibers and delivers the best possible nutrient extraction. The result is the highest juice yield we have ever seen.
Powerful and flexible
The Angel juicer is able to juice practically every kind of produce – fruit, vegetables, or herbs - from carrots to apples, even wheatgrass or spinach. The juicer has excellent results even when processing barley sprouts, leafy vegetables, herbs, shoots and sprouts. At the same time, it can make tofu, savoury pate and peanut butter! With 3 HP of grinding force, it breaks down even the toughest fibers to release the nutrition inside.
Built to last
All Angel juicers are built to industrial standards. The body, gears, screens, and housing are all made from food-grade stainless steel. This not only means that Angel juicers are durable, they are also hygienic. The Angel 7500 has an auto reverse feature to protect it from overloading. If the machine senses a jam, the motor will stop and then reverse to clear the jam. The motor cooling system helps prevent the motor from overheating and helps keep the juicer as quiet as possible.
Additional Information
Country of manufacture
South Korea
Shipping from
Croatia
Color
Silver
Warranty
5 years motor / 3 year parts
Technical data

Solid stainless steel twin gears
Low 82 rpm almost eliminates oxidation, keeping more enzymes intact and producing high nutrient juice.
180W commercial-grade 3HP equivalent motor with cooling system
Three-stage juicing system for the ultimate performance
Stainless steel body and juicing parts
Easy assembly and cleanup
Juice almost anything from carrots and apples to wheatgrass and pine needles
Highest yield for hard vegetables and leafy greens
Auto-reverse feature in case of jams
Completely made from medicine inox

Dimensions: 263 x 488 x 194 mm
Weight: 9,4 kg
Packing: cleaning brush (default round brush), cleaning knife, plastic juice and pulp containers, power cord, premium brush, wooden pusher with seal, borosilicate bottle 500 ml