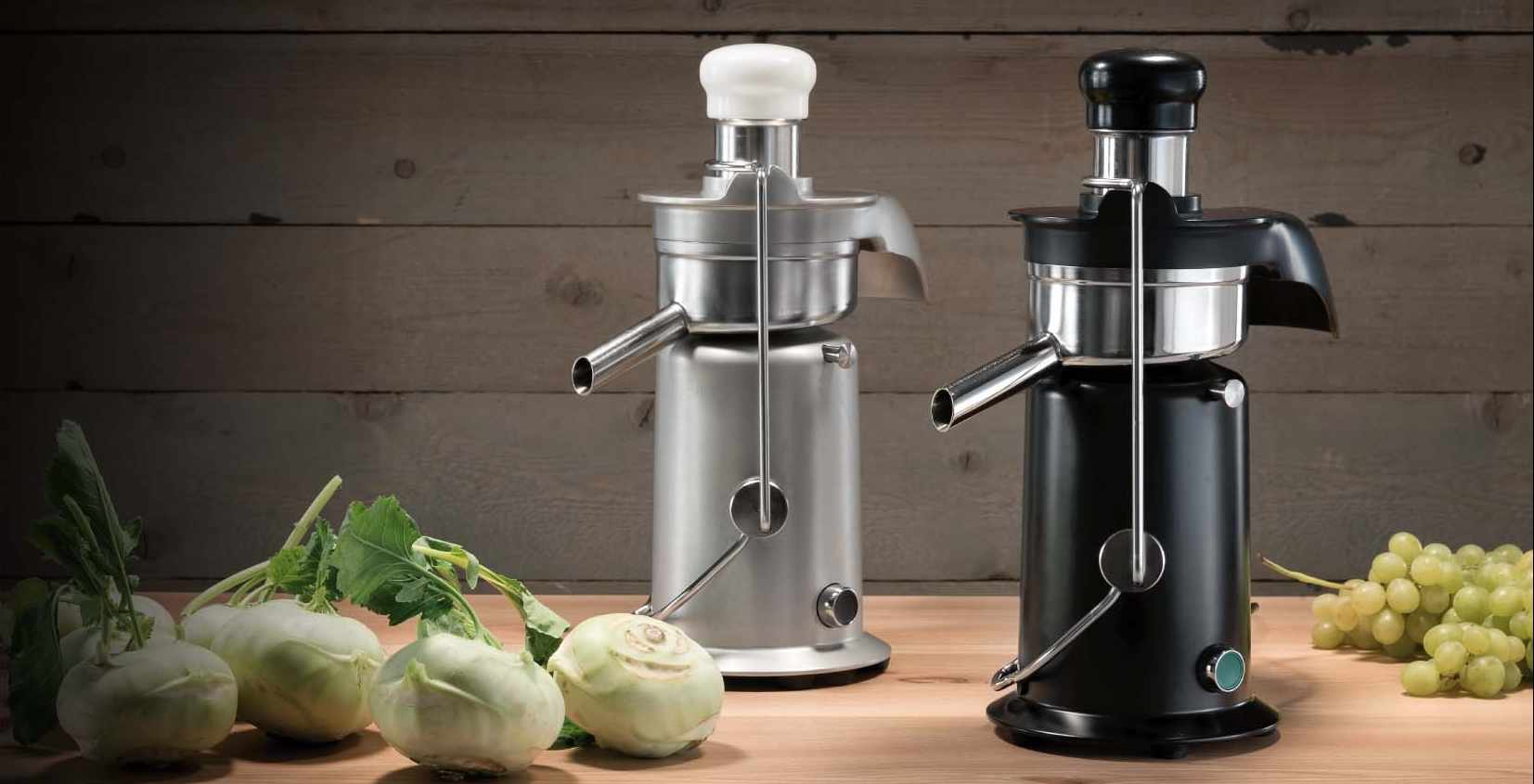 Saves space without compromising on power and durability. The IOTA is capable of the same rate of production as its larger competitors but the small footprint of this juicer makes it a winner for any juice bar, or as an addition to the repertoire of any catering outlet.
This commercial fruit and vegetable juicers share some unique features designed in-house at their state-of-the-art factory in northern Italy.
The patented clamping system with integral safety cut out is the best we have seen on any juicer and the 'self–cleaning' basket design (based on highspeed) means you can juice for longer periods without stopping.
From the blade to the switch, every component has the characteristic quality and attention to detail. The circular feed chamber is central over the blade, which means there is no uneven pressure on the heavy-duty motor bearings, giving it a much longer life. The blade is fixed to the robust stainless steel strainer basket by means of a central screw, which is also a knife that pre-cuts the produce being juiced. The added grip given by the teeth on the bottom of the food pusher makes it easiest feeder in the world.
With a spin speed of 15,500 rpm the extraction of juice from pulp cannot get any better. The juice quality is so good that your customers will be back for more and more.
Build quality is superb and the solid anodized aluminum body makes the IOTA quieter than most other commercial juicers. With over 25 years pedigree, this tried and tested workhorse holds the strong visual appeal shared by the whole range, adding style as well as reliability to the equation.
Self cleaning strainer for continuous use – just flush with water occasionally
Food Pusher with second toothed disc stops food spinning when being processed
Patented blade screw for efficient direction of ingredients
Highly efficient juice yield for better return on ingredients
Solid construction of die cast aluminum and stainless juicing parts
Smallest footprint of a genuine professional juicer
Performs as well as any larger professional juicer
15,500 RPM for ultra fast juice service - unique on the market
Additional Information
Country of manufacture
Italy
Shipping from
Croatia
Warranty
10 years retail - 2 years hospitality
Technical data

The machine does not start:

The closing lever ref.840 has not been correctly pushed down
The machine is not connected
The pushbutton ref.812 has not been pressed

The machine does not correctly centrifuge:

The teeth of the shredder disc ref.816 are worn out
The discharge part of the cover is clogged up
The strainer ref.806 is dirty or clogged up: it has to be carefully washed using its brush
Misuse of the machine with fruit or vegetable which is too ripe, mealy or not fresh

Net weight: 7kg
Gross weight: 9,3 kg
Power: 400 W / 1,6 A
Current: 230 V / 50 Hz (or any other on request)
Speed: 15,500 RPM
Hourly production: max. 130 Kg
Quantity of juice: up to 75%
Overall dimensions: 52 x 47 x 32 h (0,08 m3) cm
Product Questions
No Questions
Reviews
Click to check all testimonials