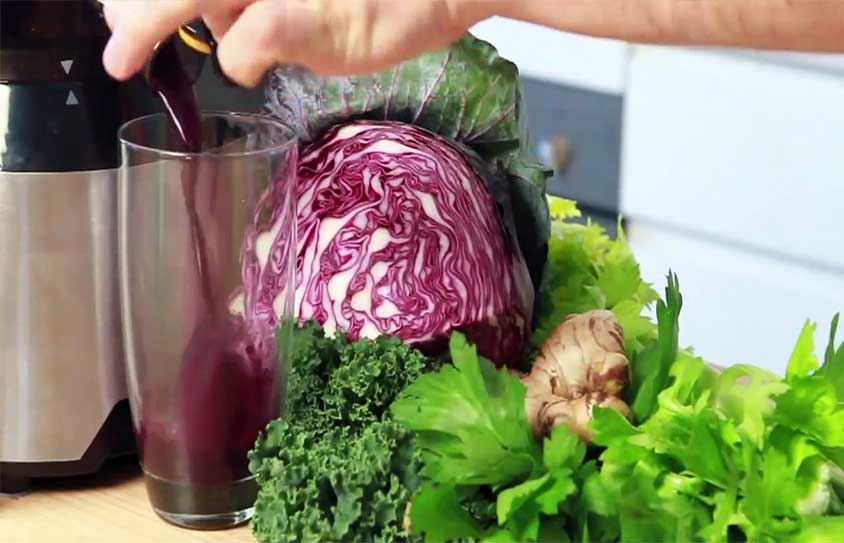 IDEAL FOR BARS
Wide feed tube (75 mm) fast preparation of bigger quantities of ingredients (smaller apples only to half, carrot without cutting, red beet to a half. Tube can be filled and doing something else while juice is processing..
Quite working mode very very quiet while working even in front of customers
Juice cap to prevent dripping of juice while working but also to mix more consistently various ingredients in juice recipes
Easy cleaning juicer need to be cleaned fully only at the end of the day. While bar is open and there is no juice making for over an hour it is worth to just slip the 0,5 liter of water while working to keep moisture and prevent drying.
Easy assembly only 5 pieces to clean and assembly.
QUALITY
This juicer has a special induction motor of 240W with low speed, but the immense power which crushes whole foods. The engine is due to its characteristics is extremely time-consuming. 3 screens with larger and smaller holes allow the creation of more mushy or fully few drinks, a sieve to puree to create ice cream and sorbet.
IDEAL FOR HIGH VOLUME JUICE LOVERS
VEGAVITA PRO squeeze literally all you can imagine without preparation:
Fruits


oranges, apples, lemons, pineapple, strawberries ..

Vegetables


cucumbers, cabbage, peppers, tomatoes

Green leaves


spinach, kale, celery and carrot leaves

Hard vegetables

-

NO MUCH CUTTING


celery root, carrot, ginger, red beet, cabbage
and also various grains for creating

vegetable milk

at home from rice, almond, soy, buckwheat
BEST BUY slow juicer
Engine torque power can chop and slack whole carrot even!
wide entrance for all kind of vegetables and fruits for fastest juicing ever
whole peeled orange and lemon, apple suggested to make it half - but speed of entering the ingredient and making a juice is best possible
easy cleaning and assembly
during the day only needed to pour 0,5 liter of water after finishing the juicing while still is working. At the end of the day 5 minutes needed to clean it completely.
juice cap
outside the juicing bowl there is a cap for closing the juice pipe - perfect for not having any drips on the kitchen table
You get 3 strainers in package:
strainer without wholes - for

smoothie

or

ice creams or sorbets

with fruits and nuts
strainer with smaller wholes - for cleaner juice with

less pulp

strainer with bigger wholes - for juices with

more pulp
Additional Information
Country of manufacture
China
Shipping from
Croatia
Warranty
5 years engine, 2 years electronics
Technical data

Heavy-duty induction motor of 240 W;
Slow rotation of the motor and the screw of only 80 RPM for great strength;
Low noise level to 60 dB;
Very wide opening for entry of food (75mm);
Push stick and cutting foods;
Strainer with large holes for thicker juice with more pulp;
Strainer with small holes for less juice with less pulp;
Strainer for ice cream and sorbets;
Juice cap for better mixing juice in the juicer;
BPA free containers for juice and pulp of 1 L with labels;
Cleaning Brush;
Easy disassembly for cleaning in the dishwasher;

Color - silver / red with black base
Dimensions (W x D x H) - 200 x 260 x 500 mm;
Weight - 7.3 kg.
Product Questions
No Questions
Reviews
Click to check all testimonials
Customer Reviews
Odličan

Review by

Lemšen

on 11/01/2022

Svaka preporuka za viš tim i sokovnik Vegavita pro. Jako sam zadovoljna kupnjom i uživam ga koristiti. Tako da ga svima oko sebe preporučujem. Nadam se da će me dugo Služiti. sve preporuke i puno hvala za sve.

Odličan

Review by

Ana

on 17/03/2015

Sokovnik je odličan, koristim ga svaki dan za razne sokove od voća i povrća i svaki zadatak izvrši besprijekorno. Priprema namirnica znatno je skraćena zbog velikog otvora, nije bučan i lako se čisti. Sokovnik je za čistu peticu i ima moju preporuku..:) Ana