The Sage Nutri Juicer Cold is an efficient and well designed centrifugal juicer that keeps juice cool as it is extracted at high speeds. By preventing juice from heating through Cold Spin Technology the Nutri Juicer Cold can maintain larger amounts of nutrients. The more nutrients in the juice, the healthier and more beneficial it is.
The Sage Nutri Juicer Cold is also equipped with some useful feature and accessories. The provided 2-litre jug is excellent for collecting large amounts of juice, and it can be sealed and stored in a fridge. The Cold also comes with a helpful attachment allowing it to juice directly into a glass for direct and immediate consumption..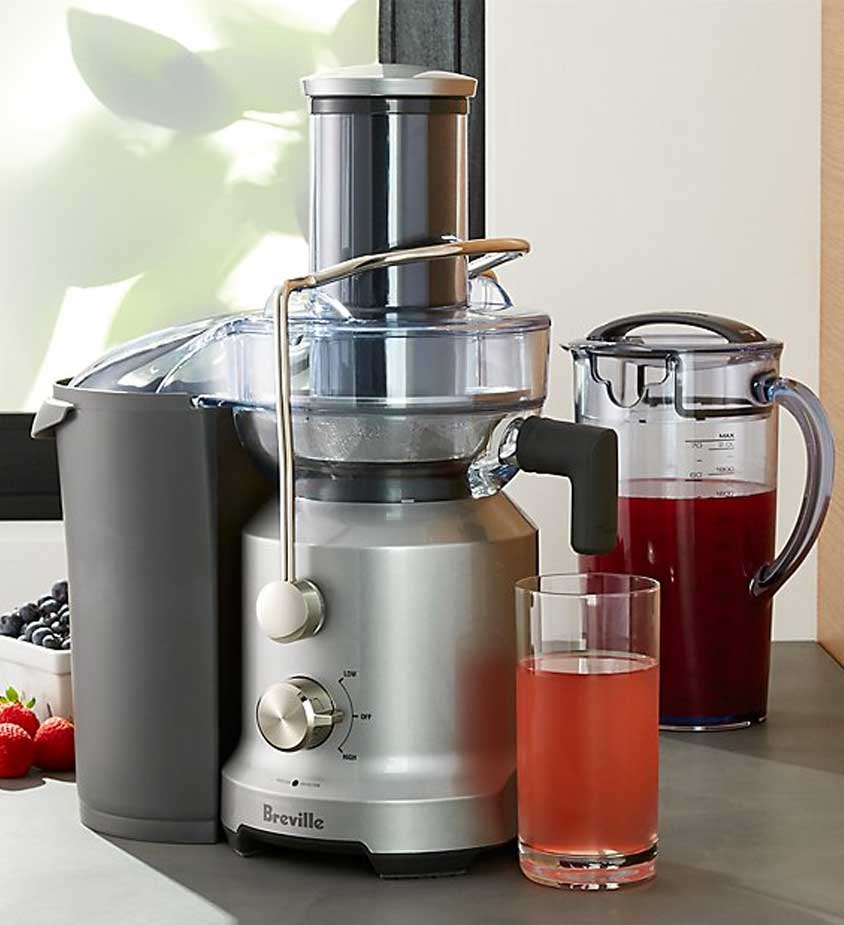 Cold Spin Technology
The Nutri Juicer Cold can excel where other centrifugal juicers fall short, thanks to its Cold Spin processing technology. This innovative design prevents heat from the high-speed motor from reaching the juice as it is produced, ensuring up to 70% more nutrients are retained. Even after heavy use the Nutri Juicer Cold will typically only increasing in temperature by a couple of degrees.
Great Centrifugal Juicing
The Nutri Juicer Cold provides fantastic performance with a fast motor, which allows it to operate at speeds of up to 13000 RPM. Operating at such high speeds allows it to blitz through all tough ingredients and keeps the juicing process short and fast. Despite its high pace the Nutri Juicer Cold can produced respectable yields from many different ingredients without too much wastage.

This juicer also offers 2 separate speed settings, allowing it to function optimally for different ingredients types. The slower setting is ideal for use with softer ingredients and the highest setting makes juicing harder ingredients very straightforward.
Super-sized 2 litre jug capacity
Nutri-disc up to 20% more nutrients
Heat transfer less than 1.5 degree C
Dual speed for harder and softer foods
"Extra large pulp Bin - more juicing
Additional Information
Shipping from
Croatia
Color
Silver
Warranty
2 years
Warranty for HORECA
2 years
Technical data

Key Features

2-litre sealed jug
3-litre pulp container
Attachment for juicing directly into a glass
Cold Spin juicing technology
High power 2-speed motor for efficient juicing
Made of durable and high-quality materials
Easy to clean

Technical Specifications

Strong motor 1250 W 13000 RPM
Colour: Stainless-Steel
85mm wide feed chute
Dimensions (wxdxh) -: 270 x 370 x 450 mm
Weight: 7.2 kg