It is designed for an easy use and cleaning with high quality materials.
The boiler gives a perfectly regulated temperature of water, to make the real creamy espresso with 16 bar pump.
Boiler has 2 sensors controlling separately water and steam temperatures.
Steam tube: hot water and steam for tea, cappuccino, chocolate.
The best quality of water gives the warranty of hygiene, long-lasting of the machine and the best taste of creamy coffee.2.4l water tank. can also be used with a bottle of water (1.5L).
Delivered with one filter holder and 3 filters : 1 cup and 2 cups, using ground coffee, and 1 cup for a standard pod.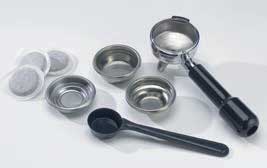 Additional Information
Shipping from
France
Color
Black
Warranty
5 year
Warranty for HORECA
2 year
Technical data

Motor 1240W
Boiler 380 cc
Pump 16 bars
Dimensions (d x w x h); 320 x 265 x 400 mm
Weight –17 kg

Packaging

Dimensions (d x w x h); 405 x 330 x 485 mm
Weight –19 kg