The Magic Bullet is an entirely new concept in labor-saving devices. Unlike bulky blenders and unwieldy food processors that most of us only pull out of storage for specific recipes and special occasions, the Magic Bullet is so handy, so versatile and easy to use that you'll put it to work EVERY single day (probably several times a day). Best of all, it saves you time because it does almost any job in the kitchen in 10 seconds or less!
The Cyclonic Cutting Zone®Process
The secret to the Magic Bullet's time-saving efficiency is the specially designed blade and unique bullet-shaped design that automatically circulates food back into the Cyclonic Cutting Zone®region with so much force and speed that it can do virtually any job in 10 seconds or less.
Using the Magic Bullet®Blender Couldn't Be Easier
There are no buttons to press, no complicated manuals to read. Simply place one of THE BULLET™Cups or Party Mugs on to the High-Torque Power Base and press...it's a snap! With the easy-to-use Magic Bullet, you can make delicious party dips like salsa, guacamole and bean dip, refreshing frozen margaritas and pina coladas, a variety of tantalizing pasta sauces, decadent desserts such as creamy chocolate mousse or frosty milkshakes and more. All with virtually no effort and no clean up. And all in 10 seconds or less.
Using the Magic Bullet®Blender is as easy as 1, 2, 3 ...



Load the ingredients into the Short Cup, Tall Cup, or Party Mug.
Twist on the Cross, or Flat Blade until the blade and cup have a tight seal.
Line up the tabs, place THE BULLET™ on the Power Base and press down on the cup to turn it on.
Here's how it works: As long as you're holding it down, the Magic Bullet is on. When you want the blades to stop, simply let go.

Or, for hands-free operation: Press down and gently turn the cup clockwise until the tabs lock under the lip of the Power Base. Now the Magic Bullet is in Lock On mode where the motor runs continually. To turn it off, simply twist the cup back counterclockwise and release the cup.
Mastering the Magic Bullet® Blender "Mixing" Techniques is a snap!
Lock On Mode is the hands free mode you use to blend foods until they achieve a smooth consistency. This is the technique for preparing creamy dishes like chocolate mousse, smoothies and frozen cocktails.

The Pulsing Technique is the one to use when you want chunky, textured dishes such as guacamole, egg salad or bean dip.
The most important thing to remember about "Pulsing" is that as you use one hand to tap down on the top of the cup, you need to use your other hand to apply counter- clockwise pressure to the cup.
High-Torque Power Base
The Power Base is the heart of the Magic Bullet. Simply plug in the Magic Bullet, place one of the Bullet Cups orParty Mugs onto the High-Torque Power Base and press. No buttons to press, no complicated manuals to read. Nothing could be easier.
Cross Blade and Flat Blade
The unique bullet shape of these cups is the secret to the effectiveness of the Magic Bullet. The Short Cup is ideal for making dips and party foods like homemade fat-free bean dip, or zesty guacamole and the Tall Cup is even more versatile...just toss in fresh fruit, ice and a splash of fruit juice and the Magic Bullet becomes a personal smoothie machine, pulverizing the ice and giving you a perfect, nutritious smoothie or meal replacement fat loss drink in 8 seconds. Plus, each container is microwave safe and dishwasher safe. That means you can prepare all your meals, then cook them and store the leftovers in the same cup!
Shaker/Steamer Tops


Your Magic Bullet comes with two Shaker/Steamer Tops that are used for steaming foods in the microwave, or as shaker tops. The Shaker/Steamer Top with the large holes is for coarse ingredients such as Parmesan cheese, the other is for finely ground spices such as cinnamon or nutmeg, so you can grate cheese or spices and serve it right to the table.
Stay-Fresh Re-sealable Lids

No plastic wrap or storage containers are needed to keep your leftovers fresh. Your Magic Bullet comes with two Stay-Fresh, Re-sealable Lids that fit right on to theShort and Tall Cups, and Party Mugs to keep your leftovers fresh for days.
Four Party Mugs with Comfort Lip Rings
These self-blending Party Mugs turn your Magic Bulletinto the Ultimate Party Machine. Now you can make fancy frozen coffee drinks, or killer cocktails in seconds -- made and served right in the same mug! They even come with colored Comfort Lip Rings to let you know whose drink is whose.
The Magic Bullet "10 Second Recipe" Book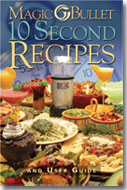 The fun and easy "10 Second Recipe" book contains every recipe featured in the Magic Bullet television show and many more. You get 100 pages of tips, tricks and mouth-watering recipes your whole family will love. From breakfast recipes for pancakes, omelets and piping hot muffins to 6-second lunch recipes like deviled ham and snazzy egg salad and all the way to gourmet dinners such as homemade spaghetti meat sauce. There are even recipes for scrumptious desserts such as creamy cheesecake and frozen fruit sorbet...as well as delicious party dips and fantastic frozen drinks! And best of all, they can all be prepared in 10 seconds or less!
Additional Information
| | |
| --- | --- |
| Country of manufacture | China |
| Shipping from | Croatia |
| Color | Black |
| Warranty | 1 year on enigne |
Product Questions
No Questions
Reviews
Click to check all testimonials
Customer Reviews
Odličan! Jednostavan, brz i praktičan!

Review by

Ivana

on 23/05/2018

Odlična stvar! Miksamo njime 2-3 puta dnevno, bebaču kašice, starijem sinu voćne a nama zelene smoothije, lanene sjemenke, sezam za gomashio, začinsko bilje, kavu... Bebač već zna da kad čuje miksanje, slijedi njegova papica:) Jako smo zadovoljni i toplo preporučujemo!

preporucam svakome:-)

Review by

Stojan

on 23/05/2018

Fenomenalan proizvod za svakodnevnu uporabu. koristim ga vec preko 10 godina i perfektno mi je iskustvo sa aparatom,