Your ideas - HENDICHEF execution!
When you need a reliable helper in the kitchen who can take care of many tedious tasks, you can count on him! Cooking has never been so easy.
HENDICHEF - an intelligent assistant to the Chef in the IPC system
The HENDICHEF is based on the IPC system (Inspiration, Professional, Creator) thus enables the rapid preparation of a wide range of dishes rom pre-programmed recipes that can be adapted at any time.
There are over 90 preloaded recipes available. Quick access to "favorites"
Find your favorite dishes - Hendichef will cook for you! Online cookbook function. Use the recipes available.
Use the wealth of Hendichel functions to help you create new dishes and culinary variations on your own.
HENDICHEF - multi-tasking assistant to the Chef:
Several standard functions such as chopping, stirring, steaming, sautéing, grating, Sous-vide, whipping, melting, caramelizing, emulsifying, kneading, chopping, cutting, mixing, weighing - to cover all needed tasks in your preparations.
What HENDICHEF will do for you:
He cooks with an idea, crushes ice, makes sorbet, mixes ingredients, steams, frying without burning, shreds, grates and chopped vegetables / fruit, knows sous vide, whips cream, proteins, dissolves e.g. chocolate, caramelizes, emulsifies, kneads dough, cuts, mixes cocktails, blends smoothies, drains ... weighing everything precisely!
HENDICHEF - well equipped
motor 1.3 HP Work in intervals. The power of the unit allows acceleration to a speed of 5000 RPM in a 4-blade sequence. Even hard products can be crushed into fine dust or to the consistency of a smoothie.
A heating element with an accelerated heating cycle placed in a pot. Thanks to the power of up to 1kW - ​​cooking dishes will take only a moment. Temperature index 37-130 degrees C with gradation every 5 degrees C. The SPEED HOT module has an anti-overheating fuse (cooking without raw materials).
4.5-liter multi-purpose pot (3 l working capacity) made of high-quality stainless steel (AISI 304). HENDICHEF activates only with the cover on - this is safety for your kitchen! You will wash it quickly and simply!
TFT display - look at pictures of food on a color LCD screen with a TFT matrix (Thin Film Transistor - high resolution, better parameters and excellent color sharpness).
The integrated quartz scale also works during active cooking in the range from 5 g to 5 kg, tare function.
Motor housing made of resistant ABS - Hendichef stably and safely stands in one place, thanks to the SLIDE LOCK formula, even during intensive work.
Hendichef - original solutions
transparent polycarbonate pot cover
A. HOT COVER for hot treatment
B. COLD COVER for cold dishes
A 4-blade knife made of hardened acid-resistant steel of AISI 420 class in a 3D system has a one-sided cutting grinding that guarantees excellent shredding efficiency.
2-function chopping disc with 13 teeth, shreds vegetables, fruits, cheese or becomes a super-fast slicer equipped with a laser-sharpened knife with a blade length of 65 mm and slices of 3 mm.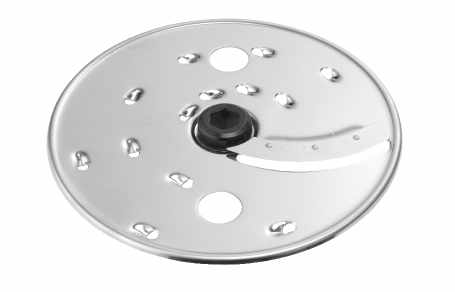 3-piece steam cooking set including:
- 4.5l polymer roasting pan installed on the pot
- a steam level extension to double the working surface
- the lid regulates the amount of steam, thanks to which the dishes retain their full aroma and crunchiness.
Sieve - the products placed in it will be immersed in water 40 mm above the bottom and 18 mm from the walls of the pot. It is also used for straining.
A silicone spatula resistant to abrasion and temperature and a measuring cup .
Stirrer for whipping proteins, cream and stirrer for emulsions, soups, etc.
HENDICHEF also has a number of practical additional functions and features:
7-inch TFT color display
large multifunction holder
transparent polycarbonate lid
durable 4-blade stainless steel knife
update function via WLAN
3-part steamer set
stirrer and whisk attachments
silicone spatula
measuring cup
USB cable and much more.
Soon will be offered a wide range of separately available accessories and spare parts for the product providing more functions and a longer lifetime to guarantee the service life of the device.
The HENDICHEF offers full flexibility and effectiveness for almost all work steps and allows unrestricted culinary creativity.
HENDICHEF - is great tool also for a family kitchen
HENDICHEF - irreplaceable
in the family kitchen
possibility of stewing, frying and caramelizing at 130 degrees

large pot capacity 4.5 l (working 3 l)

chopping disc with a slicer function

possibility of slicing
Additional Information
Country of manufacture
China
Shipping from
Croatia
Color
Silver
Warranty
2 years
Back in stock
25 Nov 2022
Technical data

Power: 1000W
Weight: 8.21kg
Dimensions: 210x380x320mm
Product Questions
No Questions
Reviews
Click to check all testimonials
Customer Reviews
Istinske preporuke!

Review by

Denis

on 17/09/2022

Pozitivno nas iznenađuje u svakom pogledu - održavanje, priprema, upotreba, mogućnosti . .
Uređaj koji je razveselio cijelu obitelj, s kojim svi kuhamo s užitkom I bez stresa. Obavlja više od 60% poslova tijekom kuhanja, a tek smo ga počeli upotrebljvati I otkrivati sve prefine recepte koje nam nudi. Za svaku preporuku svima od početnika do profesionalca!